Relationships are the greatest capital a person has. I know this because there has been significant and lengthy suffering in the life of my family. I can attest to this fact: your money doesn't visit you at the hospital. People do. In fact, your money flees when you are in the hospital! It drains away like a sink opened by Drano.
May 2014 readily brings to mind 3 important relationships that enrich my life-- relationships that have grounded me, adding grace and quality and strength. Serving as a leader in business and service organizations has been lived more smoothly because of their love. With this post, then, I want to celebrate:
MY MOTHER, Char Vincent. She celebrates her 70th birthday on 9 May. She is pictured here doing what she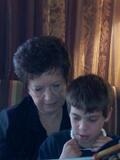 does best of all, a child on her lap investigating something, in this case my nephew Joey. She invested deeply in her three children, making us go outside and figure out how to entertain ourselves, listening to us, and teaching us honesty and thoughtful speech. She attended everything we ever practiced and played and has loved us into adulthood. Even now she frequently tells me she loves me.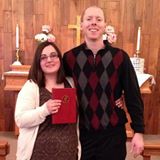 MY DAUGHTER, Autumn, who celebrates her golden birthday on the 27th. She teaches me again and again what it means to be servant-hearted. Pictured here with her husband, Alex, and trained as a teacher, she has spent the first years of her career caring for significantly disabled adult men and elderly people who need assistance bathing, getting into bed and getting their meds right--on top of teaching children all day at school. Her happy disposition and love for her family, her students and her clients provides a constant reminder to me of what really matters in building a quality life.
MY WIFE, Lorie. We celebrate 30 years of marriage this month--half of those years spent battling through 18

occurrences of uterine leiomyosarcoma--2 such occurrences last year alone. Lorie birthed and raised our children, helped me build a business, and supported me during two rounds of graduate school, while influencing scores of people to face their own suffering with quiet dignity and hope. I chose this photo, not just because of how beautiful Lorie is, but because of her radiance in this particular picture. It was the day of our son's wedding. We never thought she would see our son into high school, let alone the day he took a bride. It was such a joy-filled day! Now Lorie is a grandmother and finds no greater fulfillment than loving on Brynn, a 4th great little lady in my life who turns 2 this month on Mother's Day. But she deserves her own blog post!
These 3 ladies are strong, resilient, serving anchors. I am blessed beyond measure. Thank you is hardly sufficient.