Knowing how to tell our story can change the way others respond to us - and may help bring resolution. Steward Leaders, often in the position as Agents or Helpers in a story, often have to be careful about how we tell the story, depending on our audience.
As we saw in the diagram in our recent post on Character Roles, conflict consists of the interactions of three characters or sets of characters: the Agent, the Helpers, and the Opponents.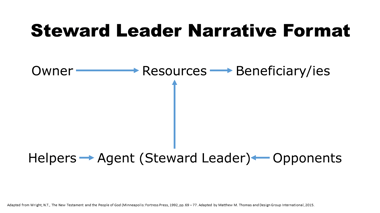 Our audience wants to be able to relate to the hero of the story - whoever that is. Often, it is the Agent; other times, the hero really is one or more of the Helpers. The Opponents are the ones often instigating the conflict, preventing the Owner from getting the Resources to the beneficiaries.
(Related: How do you govern with a bully in the boardroom?)
Becoming the hero of our own story can often come across to our audience as egotistical or narcissistic if we aren't careful. More often than not, it does not come across as steward leadership. While there are a few contexts where this works, most of the time, our best opportunity is to help our audience see themselves as the hero of the story.
Listen, for instance, to the difference in tone between the two descriptions of the same situation, by the same person:
Conversation 1:

"You all were stuck. You didn't have the resources to solve your problem. So we came in and fixed it for you. Now your problem is solved, and you're better off for having worked with us." (Could we even append, "Now aren't we great?")
Conversation 2:

"You had a job to do. It was essential that you get it done. You needed a way to do it that satisfied your stakeholders and didn't disrupt other operations too much. Now, you've had amazing success. We're glad to have had the opportunity to come alongside you to be a part of the good work you do."
While these conversations are generic, my guess is one sounds better than the other, even if still a bit clichéd. Conversation 1 puts the speaker in the position of hero in the story; Conversation 2 puts the audience in the hero position. Obviously, tone, nuance, and specifics will help make either conversation sound better in context. Nevertheless, Conversation 2 has the bone structure to connect better to the audience in general.
(Related: How does your organization fascinate others?)
What do you think the response would be to Conversation 1? To Conversation 2?

How do you tell your story?
I'd enjoy hearing your story - click the button below to send it to me!