I read a blog post by Seth Godin recently that discusses a variety of options on how to organize one's business for growth. The article is spot-on and illustrates the high demand we see for process design: the right answer isn't clear from the outset, but must emerge from values and vision, not just from reacting to the current situation. There is more than one way to design one's work to meet the demands of the present based upon what the desired outcome is. Choosing that is where wisdom and discernment meet good process.
Growing a business (or nonprofit, or congregation, or federation, or network, or franchise, or brand) can be just as challenging, and sometimes just as frustrating, as leading a declining, shrinking organization. Just think through these questions:
1. How can we maintain quality service with such limited resources?
2. Our staffing model is struggling to meet new, unanticipated needs. How do we restructure without destroying morale and effectiveness?
3. We aren't as relevant to our most solid customer/client/constituency/membership base as we were, and increased disaffection from them saddens us in terms of relationships and challenges the bottom line. Do we retool to rebuild these relationships, pursue the new relationships, or somehow do both?
4. My training didn't equip me for this situation. How do I get up to speed without losing momentum?
5. If I introduce some new product / service / program, what will that do to the current items on offer and those loyal to them?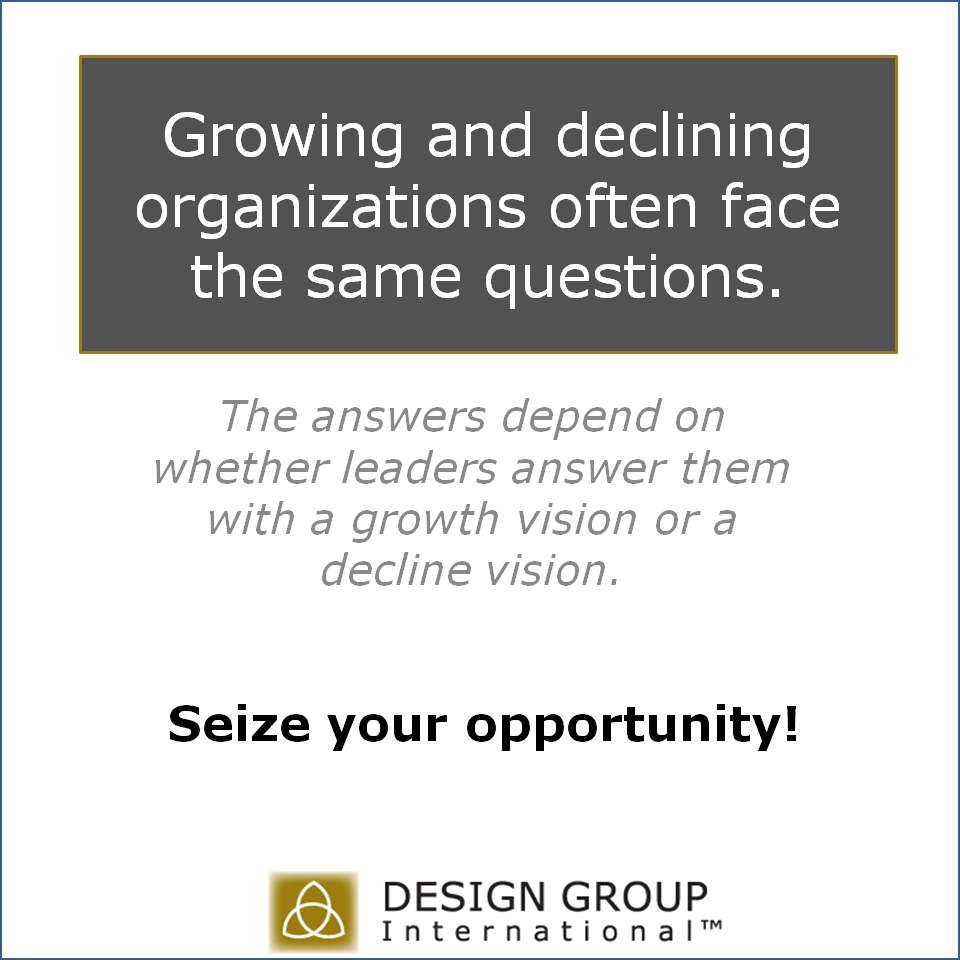 6. If we stop doing what we used to do, how we used to do it, what impact will that have on us moving forward?
7. How do we keep costs aligned with revenues as we scale?
8. Our most loyal and vocal relationships are connected to a net loss event / service / product / program. How do we rectify that while building the brand, not harming it?
9. How do our key relationships feel about us? How can we find out?
10. What customer/client/constituency/membership relationships are we missing out on? What do those people want? How do we find out? How do we match up our events / services / products / programs to meet their needs? How do we do all of that sustainably?
11. A disruptor has entered the marketplace. How do we respond?
12. What is our vision, what are our values?
Notice that these questions are the same questions for both growing and shrinking organizations. The tone they take on may be different because of the larger narrative they are written in, but the questions are the same. Those narratives are often growth/innovation/hope, or decline/loss/fear. These narratives speak to the organization's history as well as the vision the leaders hold.
This means there is real opportunity for leaders to wrestle with the overarching narratives of growth, sustainability and decline: for growth can become decline, and decline can become growth, depending on how leaders approach the questions and implement their answers.
How will you seize your opportunity?