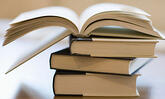 As the year draws to a close, I'd like to share with you a bit of what I've been reading (or re-reading) lately that might be of interest to Sustainable Vision readers.
The Practice of Adaptive Leadership: Tools and Tactics for Changing Your Organization and Your World. Heifetz, Ronald, Alexander Grashow, Marty Linksy. (Boston, MA: Harvard Business Review Press, 2009). 326 Pages. A must-read for anyone who is interested in leading change in any organization or community. Adaptive change is the type of change that doesn't merely involve technical fixes – changes that can be managed by "making adjustments." Adaptive change is change that requires the change leader and the organization to learn something new, and implement that new learning, so that it may thrive. This book is an essential guide for anyone in the transformation business.
[Re-read #1]: Getting Naked: A business fable about shedding the three fears that sabotage client loyalty. Lencioni, Patrick. (San Francisco: Josey-Bass, 2010). 220 Pages. In a classic "leadership fable," Lencioni walks through the three fears that service-minded professionals face: Fear of losing the business, Fear of being embarrassed, and Fear of feeling inferior. He counters these three fears with twelve practices that create healthy professional-client relationships. I recommend consultants and other professionals in service-oriented organizations (re)read this book annually, until it is in your blood.
[Re-read #2]: The Five Dysfunctions of a Team: A Leadership Fable. Lencioni, Patrick. (San Francisco: Josey-Bass, 2002). 229 Pages. The Five Dysfunctions of a Team are everywhere. In this "leadership fable," Lencioni artfully outlines the five dysfunctions, and how their symptoms show up, and how to overcome them. Another recommended regular re-read.
What the Dog Saw and Other Adventures. Gladwell, Malcolm. (New York: Back Bay Books, 2009). 410 Pages. An anthology of Gladwell's essays from The New Yorker, the author of The Tipping Point, Blink and Outliers offers insights into subjects like the difference between choking and panicking, why we equate giftedness with precociousness, how to solve chronic homelessness, and of course, why there are so many kinds of mustard but only one kind of catsup – a topic of great culinary import. This book opens up insights to getting at the "ordinary" from an extraordinary angle. The mix of journalism, psychology, and human interest form a compelling thread throughout the anthology and helps the reader see "normal" differently.
The Ministry of Development: An Introduction to Stewardship and Development for Christian Ministries, Churches, and Non-Profit Organizations, Revised & Updated. Frank, John R. (Indianapolis, IN: Dog Ear Publishing / Design Group International, 2010). 127 Pages. Published by Design Group International, Dr. John R. Frank offers this book on development basics to those just getting in to the field. He reminds readers frequently that development and stewardship are about donors' hearts, not solely about dollars raised.
Why not pick up one of these books in the New Year?