The Challenge - Staffing
Small businesses, nonprofits, and religious organizations often face similar challenges in maintaining separation of powers in financial procedure. Often, smaller enterprise systems may only have one or two people managing the financial operations. Enterprises of this size typically prioritize staffing elsewhere.
Error Needles in the Accounting Haystack
While risky from an oversight standpoint, small enterprises have limits as to how much they can spend, in time and money, on financial management. The small number of people available limits how much they can divide the role. Setting aside fraud risk for the moment, the small number of people involved lends itself to the risk of errors in recording and reporting. Even the most careful bookkeeper or accountant can make mistakes - and then, in small organizations, they have to have the kinds of procedure and process in order to be able to find their own mistakes and correct them. And as they will tell you, it is often harder to find their own mistakes than it is to find others', as they sift through the stacks of numbers produced by the regular accounting reports. Nevertheless, in small systems, this is often the way things must be.
Staffing Options
Some enterprises work around this by hiring out an accounting firm to do their books, and that can work well. It helps keep compliance with the laws for reporting and taxes, and builds in error checking and correcting into the system. Other enterprises, seeking more internal control (and often, some reduction in cost), will hire in an embedded contract CFO, finance director, or bookkeeper, depending on the level of functionality required. These are the services I often provide through my consulting practice, particularly in organizations seeking to outsource at least a portion of their financial management - either in a long-term or transitional/transformational situation. Still others maintain full internal managment of their financial health and functionality, but do so with relatively few people.
The Why and What of Modularization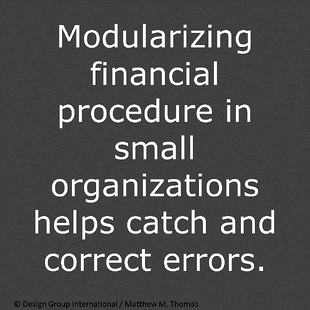 In all three basic cases, modularization of tasks can help particularly with the error checking and correcting that would naturally come otherwise from having more people involved. Modularizing tasks for financial health involves establishing procedures that are designed to stand alone, as though different people were doing them in each module, even though, in the cases of these enterprises, the same person is often executing multiple modules. For example, one person may be reconciling the enterprise's bank accounts to the accounting system, and also checking transaction-level reports for errors on a daily, weekly, or monthly basis. Modularization argues that those two tasks stay distinct, as though different people were doing the tasks. That way, the procedure design allows for catching errors missed in one procedure through the completion of the other procedure. If the two procedures are worked simultaneously, or otherwise conflated or interwoven, the likelihood of finding errors is significantly lower.
Retail Example
A retail manager is responsible for reconciling Point of Sale receipts from the cash registers to deposits made to the bank and card transaction deposits made by the merchant servicer to the bank account. The manager is also responsible for accounting accurately for inventory, and overseeing regular bill payment. Making certain these tasks are modularized, so that the franchise owner can review them independently, will improve the accuracy of the tasks themselves and the information they report.
Religious Organization Example
A church has two volunteers managing its finances. One volunteer and her team manage weekly contributions; the other manages bill payment, payroll, bank reconciliations, and governance reporting. (This is a pretty standard breakdown for many small churches.) The two volunteers must reconcile the deposits against the contributions on a weekly basis. The volunteer responsible for all the non-contribution side of the books must keep all of the tasks modularized to catch errors in bill payment, bank reconciliations and report creation, so that he doesn't introduce systemic errors into the system and propogate them forward - particularly since they only obtain a CPA's compilation or review every few years.
Process, not just a compilation of best practices.
Much of the modularization of tasks makes sense on an enterprise-by-enterprise basis, and must be fine-tuned to the particular division of labor, task, and oversight used by that enterprise. While there are some "best practices", for small organizations, many times the staffing availability dictates making do with the same person carrying out multiple modules of financial management. This is why process design is often so essential to developing how the modules work in any given system. Modularization is a tool in the process arsenal to help design self-correcting systems where staffing is minimal and the risk of fraud is low.
---
Are all your financial roles filled?
Do you have gaps in needed positions? How might you staff your system for optimal financial health?