Cultural Awareness, and the need to build capacity for cultural competence, has been on the news a lot lately. When I invited Sandra to begin her monthly guest posts this fall on that very topic, neither of us had any idea how much the issues around cultural competence would take over the news cycle. As we worked to edit this post, we discovered that we were both learning new things - about each other and about the topic at hand. We found that struggling and wrestling with the best language to communicate issues of awareness led us to a greater level of transparency and authenticity as we discussed the various issues this post brings up. It certainly reinforces (for us, at least) the need for all of us to be lifelong learners as we build our capacity and move from assessment through awareness and toward advocacy - which just so happens to be the topic of one of Sandra's forthcoming posts.
But enough from me: let's hear from Sandra on the topic of COLORblindness vs. colorBLINDness. I hope her words will draw you in and encourage you to discuss this very timely topic with us!
+Matt Thomas
---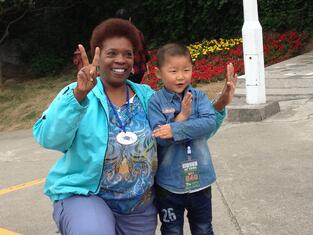 Isn't this a cute picture of me and a young Chinese boy? It was taken in 2013 when I visited The Great Wall as part of my lifelong adventures to experience the 7 Wonders of the World. His parents thrust him upon me, and pantomimed, "Can he take a picture with you?" I said, "Yes." He was not the first or last parent, teen, grandmother to stop me on the street to make this identical request, even though I was with a large group of fellow white travelers. Why?
ColorBLINDness. All they saw was my color and they wanted to make sure they got a picture with the black lady. This explanation was from my Chinese tour guide.
Have you ever said or been with someone who said, "I don't see a person's color. We all bleed red. There's no difference." If this statement was made, the person suffers from the disease (dis – ease, as in not being at ease) of COLORblindness. The COLOR is clear, not hue. On the other end of the color spectrum, have you ever said or been with someone who said, "When I walk down the street and see someone that's… get your colored crayons out… black, brown, red, or yellow ,… I get nervous." Or on the other end of the color spectrum, have you ever been in a situation where you said, "When I'm in a business meeting or on the golf course (where a lot of business happens) and I am not the we-are-all-one-color, flesh tone crayon color that is soft pink… I get nervous." If these later statements were made, the person suffers from the disease (dis - ease, as in not being at ease) of colorBLINDness.
There is a big difference between being colorBLIND and being COLORblind. While both are highly contagious illnesses, especially in a group setting, AND both are lethal to Building Capacity for Cultural Competence, both have the potential to be terminal. BUT, there is hope. There is light to improve vision.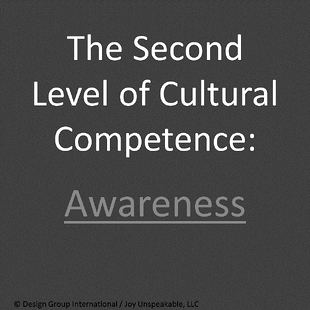 What's the difference in these illnesses? You ask good questions. I'm glad you want to know more. I hope you want to know because you want to "see" better. COLORblindness is when one does not acknowledge, recognize and/or respect that a person's culture is valid and relevant. Their culture doesn't matter just as long as they "blend in" with the majority culture. BUT, COLOR matters. On the other hand, colorBLINDness is when ALL you see is color. A person's color is so bright that COLOR is all you see. You are BLIND to all other characteristics, talents, education, and potential of that person besides their color. This colorBLINDness is especially evident to some when the person is colored black and male (Ferguson, MO; Cleveland, OH; New York City, NY). Yet, this colorBLINDness is not so evident to others (the ranks are increasing with more community conversations and diversity training). I once was blind, but now I see.
Have either of these diseases, COLORblindness or colorBLINDness affected relationships in your personal life, knowledge of diverse communities, business process procedures, hiring practices, resources and linkages, and reaching out to culturally diverse communities? Or is this disease just one you see from afar on CNN and consider it to be not an imminent threat to you, because someone else has been raising awareness about this cause? What is the light to improve vision? You asked another good question. Improved vision starts with sustained conversations and moves to the top of the pyramid to Advocacy (seventh level). I once was blind, but now I see.
I write this post to build capacity by providing a "how to" to frequently encountered cultural dilemmas in order to introduce you to my Building Capacity for Cultural Competence pyramid model. Learning how to be Aware is an exercise on the second level of building capacity for cultural competence. The first level is Assessment. More specifically I define the second level of capacity building as:
AWARENESS: Being aware of how cultural "blindness" and bias contribute to racism, prejudice, and discrimination and how cultural "vision" and focus contribute to add value, promote respect and foster relevance.
Want to know more? Click the "Take a Self-Assessment" button in the column to the right!