There is a perception difference between an Advocate and an Activist. Activists often have the ethos of someone who is angry about something, focused on being "against," maintain an ideological stance that does not allow compromise,. An Activist is often seen as taking dramatic (often symbolic) action, and carrying around the weight of victimization. Even though Activists often have much more to offer and can be very positive, the popular perception remains. Advocates, on the other hand, have the perception of coming alongside someone, working to empower them, speaking on their behalf when those in authority or otherwise consider them invisible. Advocates excel at creating space for relationship and solution-building that avoids the (perceived or real) demagoguery that Activists tend to be known for. This shift in process allows people to save face, which is needed to move toward reconciliation, collaboration, and community.
In summary, Activists tend to take the stand, "If you're not completely with me, then you're against me," (either by being part of the apathetic herd or a part of the systemic opposition). Advocates, on the other hand, tend to take the stand of, "We're all in this together, to build something better than we have, we need to take the needs/perspectives/values of these other people/stakeholders/groups into consideration, and use our new-found perspective and connectedness to do something powerful." In this final post in her series on Building Capacity for Cultural Competence, Sandra Quick offers an example of how Advocacy works and the way it can bring about positive transformation.
For the rest of the series, see:
See also my post on why Building Capacity for Cultural Competence is an essential part of organizational leadership.
---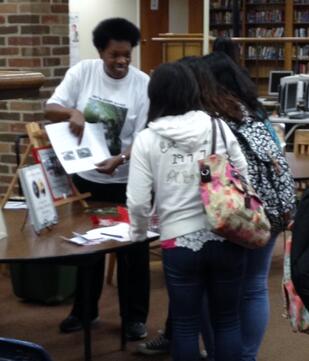 Here I am at my alma mater, West High School, Columbus, Ohio, class of '68. The Alumni Association invited all alumni authors to display and discuss their published books at an "Alumni Book Fair". The purpose was to encourage the current student population to write their "great American novel" even if they weren't from America. The students could see people who achieved their dream, despite obstacles and trials. We, the alumni, were people who had walked the same halls as they were walking now. We had a connection.
If your high school is like the majority in the United States, the ethnic and cultural population has changed tremendously in the last 20-30 -40 years. Is that true for your high school? In this photo, I'm discussing my books, Our History Awakens: Creating MY Living History Avatar and Our History Awakens: Creating YOUR Living History Avatar with three Asian girls. There were no Asians at West High when I was a student, just 90% white and 10% black.
When I was growing up, I took advantage of the opportunities to learn, even though these opportunities were shadowed by the 1940's mind set of my high school counselor. He encouraged me to "learn a trade"; instead of aspiring to go to college, "because there are good cleaning jobs for poor black girls like you." How did I overcome this affront to my intellect and future prosperity? I became my own Advocate through sheer determination. I took action. I studied harder. I made myself known, through volunteering to do community service, to teachers who encouraged me to apply to college. I researched what it would take for me to apply to, get money for, and succeed in college. My source of determination was personal and powerful.
This seventh level of Building Capacity for Cultural Competence is about Advocacy. Advocating is being able to transcend cultural differences to establish trusting and meaningful relationships with persons from different cultures. Advocating is action. An Advocate gets out there and makes themselves known, makes contact, puts forth the effort to engage in conversation and communal camaraderie with people of other cultures, even when the expected outcome is not guaranteed. As Matt mentioned in his introduction, Advocacy and Activism are two different genre. Matt also revisited the path to reach this high level of connectedness.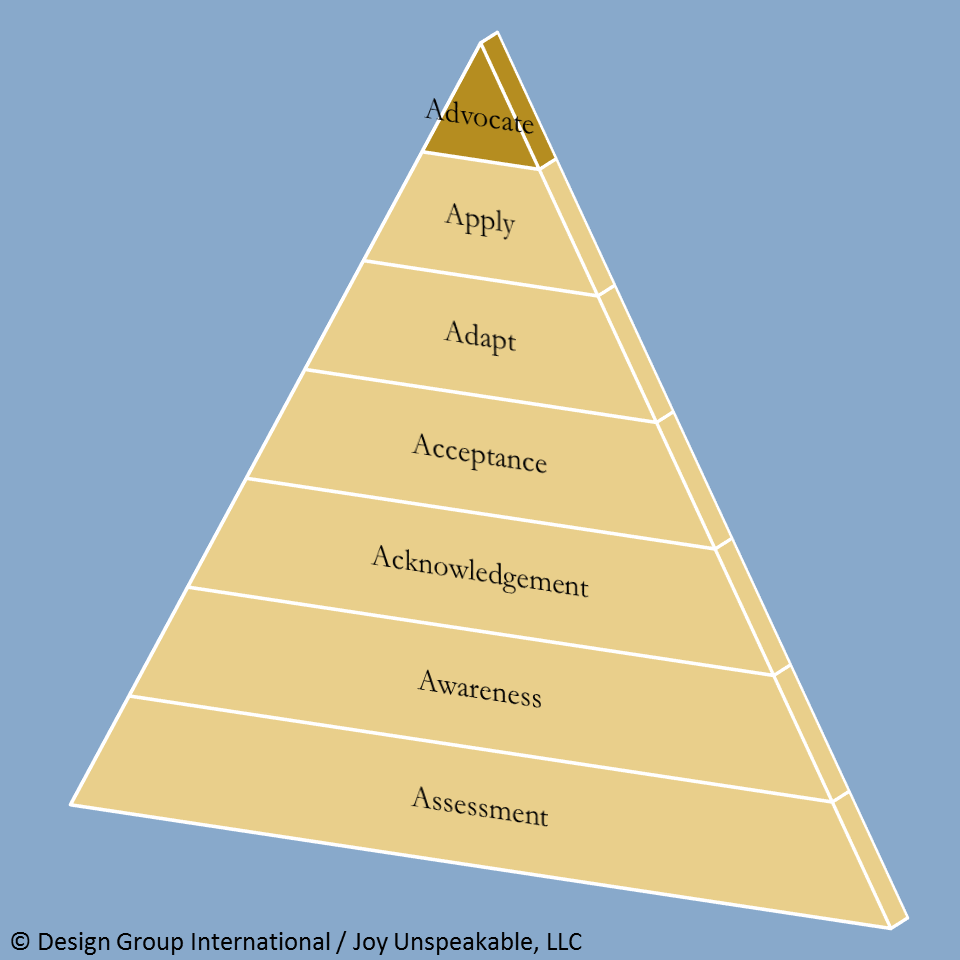 Eighteen months after the Alumni Book Fair, I received an e-mail from the organizer. West High's guidance counselor knew of a Somali girl who wanted write a book. They asked if I would mentor her. I was not surprised at the full circle connection. I joyfully agreed.
Mahatma Gandhi promoted us towards Advocacy,
"You must be the change you wish to see in the world."
Bill Clinton provided an example of the path towards the Advocacy journey,
"A whole new generation moves from a past of clenched fists into a future of outstretched hands."
Will you be a change agent? Will you reach out and shake a hand? Will you be an Advocate?
Don't stop at your own ascension to the pinnacle; help someone else climb the Building Capacity of Cultural Competence pyramid. Share this blog with colleagues and friends. I write this blog post to build capacity by providing a "how to" to frequently encountered cultural dilemmas in order to introduce you to my Building Capacity for Cultural Competence model. The first level is Assessment, the second level is Awareness, the third level is Acknowledgement, the fourth level is Acceptance, the fifth level is Adapting and the sixth level is Applying. I define the top and seventh level of capacity building as:
Advocating - Being able to transcend cultural differences to establish trusting and meaningful relationships with persons from different cultures.
Want to know more? Click the "Take a Self-Assessment" button in the column to the right!