In Sandra's first three blogs she talked about hair, crayons, yoga and vampires. That's a pretty wide range of topics. Each of those topics dealt with cultural competence from an internal perspective. In this blog, she shifts from internal to eternal perspective at the fourth level, Acceptance, of the Building Capacity for Cultural Competence pyramid. Having transcended the first level, Assessment, the second level, Awareness, and the third level, Acknowledgement, level four, Acceptance, deals with being open to explore other cultural differences. So you may ask, "What exactly does open mean and how far open do I have to go?"
To review, Culture is not synonymous with race. Cultures are social constructs of humankind, each with its own adaptive strategies for a life of meaning and worth. Cultures are dynamic and continually changing, permitting continued successful adaptation to changing life circumstances. Simply put, culture is "the way we do things around here." Whether it is driving on the left side of the road, as I experienced in St. Thomas in the US Virgin Islands, or looking for street signs on buildings rather than on signposts, as I saw in Riga, Latvia, cultural differences are usually neither right nor wrong, but just different ways of doing things.
Let's listen to Sandra's fourth level of the Cultural Capacity pyramid, Acceptance.
---
---
Few smells excite our noses like the smell of home cooked food from our childhood. If you are of East Indian descent, the aromas of curry, cumin, and cardamom may come to mind. If you are of Mexican descent, smells of chili peppers, cilantro, and chipotle may bring back pleasant memories of elderly women bending over pots and tasting for just the right blend of seasonings. If you are of Italian descent you may remember smelling basil, oregano, or olive oil. I am not a member of any one of these ethnicities, but I take every opportunity to enjoy food from other cultures. Even if I don't think I'll like it.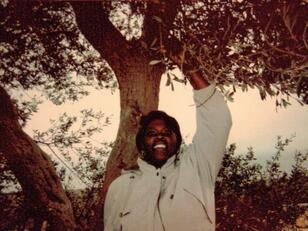 Here I am in Altamura, Italy in 2007 in a real Olive Garden. I was on a mission trip and the guest of the Chiesa Cristiana Evangelica Battista. The church members welcomed us at an evening meal. What I wasn't used to was that the meal started at about 8:30 PM, and was hosted in the church basement. There were 5 or 6 courses and each course was accompanied by the everlasting toasting of homemade "Vino! Vino! Vino!". Trust me on this one, that scene would have never, ever happened in my church's basement on a Saturday night. Different culture, different social construct. I had to choose between Accepting their hospitality or offending my hosts. I choose to Accept their generosity with humility and an overstuffed belly. Acceptance is not agreeing with the culture, Acceptance is acknowledging their culture exists.
Before people were talking about race relations in Ferguson, MO or ethnic cleansings in Crimea, Ukraine or rape and gender issues in India, people were talking about culture. Culture is not synonymous with race or ethnicity. Culture is defined as … social constructs of humankind, each with its own adaptive strategies for a life of meaning and worth. Cultures are dynamic and continually changing, permitting continued successful adaptation to changing life circumstances. Simply put, culture is "the way we do things around here".
Merriam-Webster Inc., America's leading dictionary publisher, has announced its 2014 top ten Words of the Year. The Word of the Year, with the greatest number of lookups and a significant increase over last year, is culture. Merriam explains that:
Culture is not associated with any one event, but instead dominated the headlines this year, on topics ranging from "celebrity culture" to "rape culture" to "company culture." In years past, lookups for the word culture spiked in the fall, as students encountered the word in titles and descriptions of courses and books, but this year lookups have moved from seasonal to persistent, as culture has become a term frequently used in discussions of social phenomena. http://www.merriam-webster.com/info/2014-word-of-the-year.htm
When was the last time you were in a different social construct where the traditions, beliefs and/or practices were quite different from your own? How did you respond? How did you react? Where you engaging, anxious, acknowledging? Did you "fit in" or did you "stand out"? Did you feel Accepted or segregated? As you Build Capacity for Cultural Competence, allow me to introduce you to my friend T.I.N.A. T.I.N.A is an acronym for This Is Not America. In other words, we do things differently here. I invite my friend T.I.N.A. with me as I travel the globe allowing me the luxury of enveloping myself in the new and unfamiliar. Their way is not wrong or right, just uncommon to me. Please do not hear me say that one should Accept practices that are unethical, unlawful, and harmful to self and others, such as embezzlement or female genital mutilation. There are many manifestations of cultural practices, some good, some bad. These cultural practices can be overt or covert. For example:
in a culture of peace, people overlook minor offenses and forgiveness is rampant;
in a culture of silence, the mantra is "Don't ask and don't tell";
in a culture of inclusion, all are welcome to worship regardless of gender identity;
in a culture of predatory lending, people scream, "Give me bigger and better, no matter how much debt I'll be in.";
in a culture of moral bankruptcy, bosses and employees take off countless hours while still "on the clock", share company secrets with the competition, and or disregard safety standards for the sake of the almighty dollar;
in a culture of better business, certified businesses sport the motto, "Start with Trust";
in a culture of bureaucracy, red tape and poor customer service rule;
in a culture of entitlement, "Because I exist, the world owes me" is the status quo;
in a 'smart' culture, ' smart' cars, 'smart' pills by Google X are packed with tiny magnetic particles designed to circulate in the human body looking for signs of cancer and other diseases, and 'smart' shoe sole with a built-in GPS tracking chip that works with a variety of 'smart' phones where artificial intelligence takes over for the human experience. [By the way, much to my IT careered son's chagrin, I still do my monthly budget with pencil (including eraser) and ruled paper. I admit it is hard for us old-timers to change.]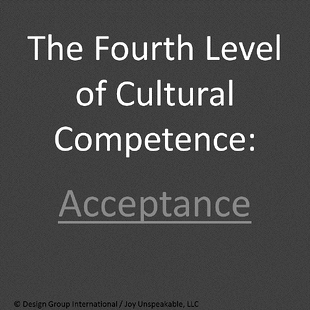 Yet, do not be afraid or ashamed to change as you work through Accepting cultural practices and traditions that are different from your own family origins or learned behaviors. Acceptance does not mean you have to emulate the exact same practices. Acceptance means that you acknowledge the cultural difference and respect it. I encourage you to Accept T.I.N.A.'s invitation to be your tour guide through this new culture adventures of lifelong learning.
Three examples of ways to Accept (be open to, recognize, appreciate) cultural differences and Build Capacity for Cultural Competence with another culture different from you own is to:
1- Listen, the first step is to talk with people of other cultures and listen to what they have to say;
2- Learn , the second step is to explore, investigate, research about other cultures;
3- Linger , the third step is to take part in festivals, community events, invite a person of another culture out for coffee.
Remember those childhood smells of home cooked foods. Use those memories of seasonings to add spice to your cultural diet. Go ahead, season relationships, spice them up. Tasting new foods is risky, but try it, you may like it. As Dr. Seuss reminds us, "green eggs and ham" can be edible and enjoyed "here or there."
I write this blog post to build capacity by providing a "how to" to frequently encountered cultural dilemmas in order to introduce you to my Building Capacity for Cultural Competence model. The first level is Assessment, the second level is Awareness, and the third level is Acknowledgement . I define the fourth level of capacity building as:
Acceptance – being able to learn about other cultures from the people who know them best and live in that culture, to accept members of other cultural groups – being open to exploring cultural differences.
Want to know more? Click the "Take a Self-Assessment" button in the column to the right!