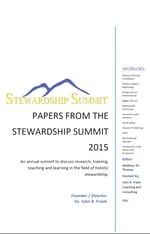 An international gathering of thought leaders and practicioners concerned with steward leadership and steward cultivation gathered at the CRU headquarters in Orlando in January 2015, hosted by John R. Frank. The papers presented are combined in this collection.
Authors include:
An Introduction from Dr. John R. Frank
Dr. Jon Swanson: Biblical Generosity in the Local Church
Dr. Kent R. Wilson: The Board as Chief Steward of the Nonprofit Organization
Dr. Gary Hoag: Global Stewardship: Exploring Biblical Texts in Social and Cultural Contexts
Pastor Brian Kluth: Why and How Transformational GenerosityTM Can Change Communities and Countries
Rev. Matthew M. Thomas: 'There were no needy persons among them' as a Theology of Generosity: A Jubilee Vision
Barbara Shantz: The Power of "Cross Cultural" in Stewardship and Fundraising
Bob Wielinga and Dirk Ailts: Effective Stewardship Transforming Mindsets within the Majority World
$20 US
You can make a secure order by filling out the form at right. You will then receive a faxback form via e-mail to complete the order and protect your credit card information.
You can also order
COLLECTIONS FROM PREVIOUS SUMMITS
2014
- held at Multnomah University
2013 - held at George Fox University