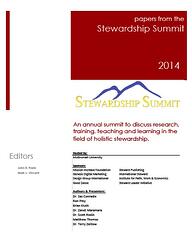 An international gathering of thought leaders and practicioners concerned with steward leadership and steward cultivation gathered at Multnomah University in January 2014, hosted by John R. Frank. The papers presented are combined in this collection.
Authors include:
An Introduction from John R. Frank
Sas Conradie - Mission Giving in the 21st Century: Toward a Framework Based on the Cape Town Commitment
Ron Frey - Stewardship of our Calling in the Five-Fold Ministry Gifts of the Church
Brian Kluth - State of the Plate
Matthew Thomas - Five Opportunities for Steward Leaders
Zenaida A. Maramara - Integrating the Biblical and Theological Concepts of Stewardship in Corporate Social Responsibility
R. Scott Rodin - The Steward's Journey and the Power of Narrative
Terry A. Zeitlow - Pastoral Preaching on Financially Related Topics: An Evangelical Perspective
$20 US
You can make a secure order by filling out the form at right. You will then receive a faxback form via e-mail to complete the order and protect your credit card information.
You can also order
COLLECTIONS FROM PREVIOUS SUMMITS
2013 - held at George Fox University